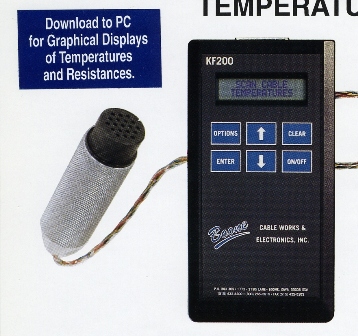 MODEL KF200 Memory Portable Temperature Instrument.
Insert the jackhandle into the Cable Reading Plug and Select Read Temperatures. The KF200 automatically reads and stores the temperatures, repeat for each cable. After all the cables have been read you can plug the KF200 into a Parallel Printer to get a printout of all the readings. There is also an option available to download the temperatures to a PC.
Easy to Use, Rugged and Accurate
FEATURES:
1. Clear, easy to read LCD display, even in bright sunlight.
2. The KF200 is compatible with nearly all existing portable systems.
3. Memory download capabilities greatly increase the speed of reading temperatures.
4. Memory function eliminates the need for hand written logs.
5. Automatic download printing to your Paralle printer for hard copy records.
6. Optional download to PC for text and graphic display.
7. Memory capacity: 320 cables or 33,600 thermocouple readings.
8. Stores and prints 5 readings to compare and monitor trends.
9. Available for 6 T/C, 12 T/C, 18 T/C or 21 T/C jackhandles.
10. Jackhandle adapters available for different size plugs.
11. Carrying case, Battery Charger, and Long Life Battery Pack included.
12. Automatic OHM/Resistance reading feature allows for fast and easy evaluation of your system's Temperature Cables and Leadwire.
Call today for a SPECIAL PRICE. Just mention that you saw this product on the Carver Company Web site.
Model KF100 Self Contained Digital Portable Temperature Instrument.
This unit has no memory, you plug in the jackhandle turn the selectro switch to read each temperature on the cable. A pad is provided to write the temperatures down.